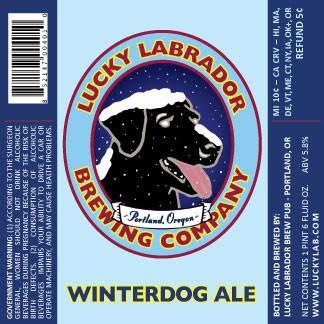 For the first time ever, Lucky Lab brew is available in stores. We're bottling and selling our premium Winterdog beer, a seasonal beer for people who want a winter companion—and it's only available in select Portland stores for a limited run.
Several winters ago, we had a lag in production and a fermenter opened up. Abby, my assistant brewer, wanted to do something wintery and fun, but not high-gravity like other winter beers. So she formulated a brick-red beer that's malty, but not over the top. Usually winter beers clock in at over 7 percent, because you want something heavy and malty to warm you up. Winterdog warms you up, for sure, but I can drink three pints and function and feel good, which I can't do with any other winter beer.
Winterdog is already popular at the Lab—in fact, we started bottling it because the handyman wanted to give his crew something to say thanks. So we bottled up a few of our Winterdog special, the same brew that's going into bottles all over town, and the same brew you remember from last year.
Right now we're going to distribute 50 cases, with 12 beers each.
We'll keep you updated on the whereabouts of the wild Winterdog, both here and on our Twitter feed. Call any Lucky Lab location and you might be able to find a Winterdog keg on tap at one of our four locations in town.
So if Portland wants more of these frosty canines, speak now or forever hold your peace. Go out and bring home a Winterdog, available now in beer bottleshops.