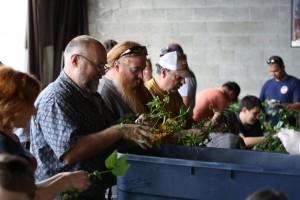 It's out! The Mutt will be served starting today, while supplies last, at all four pubs. Using Cascade hops grown at the Hawthorne Pub along with several mysterious hops varieties grown by our hop enthusiast friends, we used 250 pounds this year in one seven barrel batch! Our kettle, doubling as a jam-packed hop back, was full of the mongrel menagerie of humulus lupulus.
To add complexity and deliver hop nuances we used not only an ale yeast, but also a lager yeast as well. The result is a super drinkable session ale with an incredibly complex dance of floral bouquet and a mosaic of hop flavor. At the Hawthorne Pub we have it on nitro, cask and draft while the other three pubs will just have draft.
You better be quick though because the yield was only 13 total kegs.