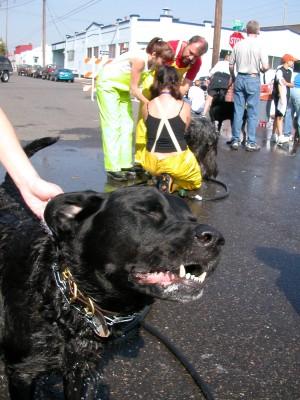 19th Annual Dogtoberfest – 8,165 Dogs And Counting!
It all started back in the fall of 1995 when we decided as part of our very first anniversary we would do a free dog wash for our loyal patrons. We placed a small ad in the Willy Week and hoped a few dogs would show. At 11 a.m. there was already a line and by the end of the afternoon, we (just Alex and Gary) had washed 60 dogs. We were completely "dogged tired."
In 1996 we felt we needed some help, but also thought that this would be a great opportunity to help out in the community.  We called up the Dove Lewis Emergency Animal Hospital and asked if they might want to join in, wash some dogs, and raise some money. They apprehensively said "yes". That year we doubled the number of dogs to 150 and Dove Lewis realized the potential of the event. Over the next few years the dogs washed numbered 300 then 450 and in 1999 it was the perfect storm: 650 dogs and a horse! That's right — a horse. Our friend, Reed Coleman, a KOIN TV news anchor at the time, saw a horse trailer stop nearby and talked the owner into bringing the horse into our lot to be washed — that was one crazy year.
Throughout the years Dogtoberfest has raised about $110,000 for Dove Lewis and we have washed a total of 8,165 dogs thanks to the army of volunteers who come out to help with the washing.
Also, a big shout-out goes to our long time friend Richard Meyer who coined the term Dogtoberfest. We first thought it was a dumb idea — but I suppose it goes to show that sometimes ideas that sound silly at first can end up being the best ones.
This year's Dogtoberfest is on Saturday, September 21st from 11 a.m. to 5 p.m. — so bring your pooch down to get clean while you get to hang out and have a pint, enjoy some tunes, and help out a good cause. Click here for more on Dove Lewis and the Dogtoberfest.