INFO

INFO

MENU

MENU

PRIVATE EVENTS

PRIVATE EVENTS
Multnomah Village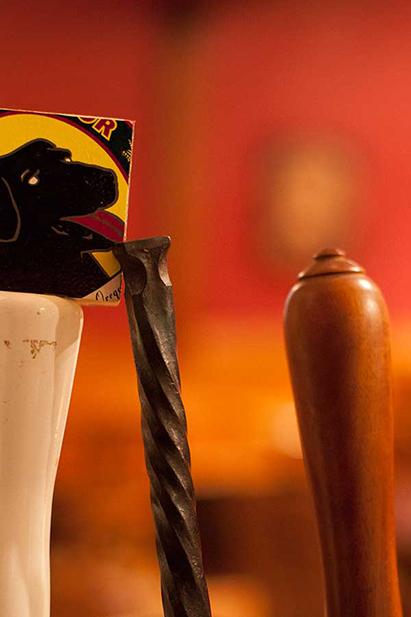 (503) 244-2537
7675 SW Capitol Hwy. Portland, OR 97219
We built our second location a former Masonic Temple in the bustling community of Multnomah Village. We still have the building's original cornerstone, but we had to take it out of the foundation and stick it under the front counter.
Bring the family and come sample our pizza and salad menu, along with our trademark Lucky Lab brew, delivered straight from one of our two Lab breweries in town. The Multnomah Village location also has a generous space for private parties with a seating capacity of 90, perfect for your business gathering, birthday party, or Masonic ritual.
Multnomah is our most family-oriented crowd at any of the Lucky Labs, but there's still some spooky stuff held over from the Freemason days. If you look carefully at one of the rafters on the first floor, somebody carved in two dogs, almost like a cave painting.
Hours:
Monday – Saturday, 11 a.m. to Midnight
Sunday, Noon to 10 p.m.
Minors: Allowed until 10 p.m.
PIZZA
Our hand-tossed, barley flour pizza dough and quality ingredients superbly complement our fresh hand-crafted ales.
VEGGIE PIZZA
Cheese Pizza ……………$17.95
Provolone, Cheddar, Mozzarella, and Parmesan
Veggie Deluxe……. $22.95
Artichoke Heart, Mushroom, Green Pepper, Black Olive, and Tomato
Five Cheese Meltdown …$19.95
Provolone, Cheddar, Mozzarella, Feta, and Parmesan
The Greek ……………$22.95
Sun-dried Tomato, Roasted Garlic, Red Onion, Kalamata Olive, and Feta Cheese
Northwest ……………$22.45
Pesto Sauce, Blue Cheese, Apple, Hazelnuts and Fresh Spinach
Dog Breath ……………$20.95
Spicy Sauce, Roasted Garlic, Fresh Minced Garlic, Red Onion, and Black Olive
Village Vegan ……………$20.95
No Cheese at all! Fresh Spinach, Artichoke Heart, Green Pepper, Broccoli, Roasted Garlic, and Mushroom
MEAT PIZZA
The Mutt ……………… $24.95
Pepperoni, Italian Sausage, Artichoke Heart, Green Pepper, Mushroom
North Shore……… $21.95
Canadian Bacon and Pineapple
Vegetarian's Nightmare. $25.95
Pepperoni, Salami, Canadian Bacon, Italian Sausage
The Mediterranean … $21.95
Salami, Yellow Onion, Roasted Garlic, and Feta
The Big Dog …………. $26.95
Pepperoni, Italian Sausage, Salami, Green Pepper, Mushroom, Yellow Onion, Red Onion, Broccoli, Tomato, and Black Olive
Hot Diggity Dog … $24.45
Spicy Sauce, Pepperoni, Italian Sausage, Black Olive, and Mushroom
Et Tu Brute? ……………$24.95
Caesar Dressing, Spinach, Seasoned Chicken, Yellow Onion, and Minced Garlic
Fire Bird …………. $24.95
BBQ Sauce, Chicken, Mushroom, Yellow Onion, Minced Garlic, Jalapenos
BUILD YOUR OWN PIZZA
START WITH CHEESE PIZZA $17.95
FOR $2.50
Chicken
Pepperoni
Italian Sausage
Salami
Canadian Bacon
Pesto
Artichoke Hearts
Kalamata Olive
Sun-dried Tomato
Blue Cheese
Roasted Garlic
Feta Cheese
Extra Cheese
Green Pepper
Red Onion
Fresh Tomato
Fresh Spinach
FOR $1.95
Jalapeno Pepper
Pineapple
Black Olive
Mushroom
Yellow Onion
Broccoli
Extra Sauce
Apple
SLICES/SPECIALS
CHEESE…$2.75
PEPPERONI…$3.25
MEAT OR VEGGIE DAILY SPECIALS…$3.75
COMBO SPECIAL
Slice & side salad…$7.50 w/ Chicken Caesar…$7.95
LUNCH SPECIAL
Slice, Mini Salad, and Soda…$7.50 (AVAILABLE from open until 3:00 p.m.) w/ Chicken …$7.95
SALADS
House Salad
Regular $5.95
Jumbo $14.95
Traditional mixed greens with carrots, cucumber, and spicy home-made croutons with your choice of dressing: Ranch, Italian (Fat Free), Honey Mustard, and Blue Cheese
Caesar Salad
Regular $6.45
Jumbo $15.95
Our tangy version of the classic with spicy homemade croutons
Thai Spinach Salad
Regular $6.45
Jumbo $15.95
Spinach and Romaine with a Thai peanut dressing, red Onion, and sesame seeds
BEVERAGES
Soft Drinks
Coke, Diet Coke, Sprite, Iced Tea, Orange Soda, Lemonade:
Pint (16oz) ……. $1.95
Pitcher (60oz) ……. $7.95
Lucky Labrador Root Beer:
Pint (16oz) ……. $2.95
Pitcher (60oz) ……. $8.95
Call to book (503) 244-2537
Multnomah's spacious party room used to be Freemason chambers; now it's a perfect gathering place for everything from casual parties to business meetings! With a generous seating capacity of 90, it is a great space for your special events needs. We are very flexible about arrangements for food and beverage. Either the host can pay for food and beverage or the bartender can collect from people as they order.
Please allow a few days notice for ordering buffet food items.
To reserve the private room call 503-244-2537 Monday through Friday, 9 a.m. to 4 p.m. and ask for Erin or Edwin.
We will tentatively hold a space for two business days without payment, but the non-refundable room fee is payable in advance.
Room Rental
Sorry, not available on Tuesday or Friday evenings.
Daytime Rental – Monday through Friday, without bartender $50 until 5pm
After 5pm:
Monday and Wednesday Evenings – $100
Thursday and Sunday – $150
Saturday – $200
***Half Price for the All-You-Can-Eat Buffet (minimum 30 people, Includes private bartender!)
Capacity: 90 seats
Minors: okay up until 10 p.m.
Live music is permitted until 10 p.m with room rental only.
Additional fee for outside catering.
Beverages
Coke, Diet Coke, Ice Tea, Lemonade, Orange Soda, Lucky Lab Root Beer
Food
Either select specific items from our menu or…
All You Can Eat Buffet – 50% off room charge and just $9.95 per person (includes gratuity, minimum 30 people). Includes pizza and salad.
All food for private gatherings must be purchased from The Lab. Cakes are ok, but we suggest bringing in small paper plates.
Please note that a 15% gratuity charge will be applied to all beverage and food tabs.