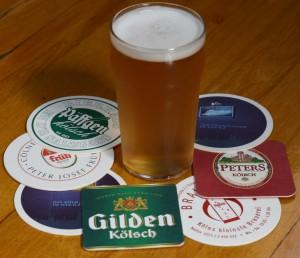 Today we are re-re-re releasing Konigs Kolsch, a top-fermented beer named after the German style ale brewed only in Cologne (technically it has to be brewed in Cologne, but pretty much everyone breaks the rules these days). It has a straw color, a malty golden flavor, a prominent Hallertauer hop finish, and comes in at 4.9% abv. In Cologne, Kolsch is served in small, .25 liter, tall narrow glasses and servers have round trays with holes holding about 15 glasses. Servers roam the Bierhaus, exchanging empties for fulls, and marking customer's coasters to keep track of tabs.
Way back in 1994 we started the brewpub on Hawthorne and Konigs Kolsch was part of our very first line-up and remained until around 2003. Back in the day, in the midst of the fruit beer craze (anyone remember Lemon Lager?), we focused on brewing more traditional, drinkable ales. Over the years the Kolsch has periodically made its way into our lineup, usually in the warmer seasons.
In 2010, Alex and Gary (from Lucky Lab) and Jerry Fecther (from Lompoc Brewing) went on a "beer research trip" across Europe sampling the many varieties of Czech, German, and Belgian beers. During that trip they found themselves in Cologne, the home of Kolsch. They sampled the finest from Gilden, Peters, Fruh, Paffgen, Gaffel, Sunner, Dom, and Reissdorf while enjoying the rustic Bierhauses of Cologne.
Below are a few pics from that trip: