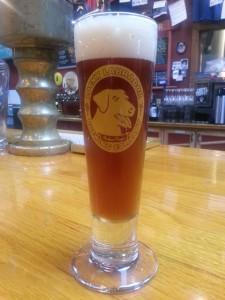 Taste Craft Beers at Lucky Lab 14th Annual Barleywine and Big Beer Tastival
Come join us for the big, crazy beers at this year's Tastival at the Quimby Beer Hall Friday and Saturday, March 8th and 9th, noon to 10 p.m.  We call it a tastival because we encourage people to try many of the barleywines and other big beers on offer.
An event glass and two tasting tokens are just $9 and extra tickets are $1.50 each for a four-ounce pour (you'll need double tickets for special rare beers).  We have a tentative total of 43 beers to taste.  We will have about 25 on tap at any one time, and we will tweet as the days progress so you'll know what has blown and what is still pouring.
Please check on our Facebook page (Lucky Lab Barleywine Big Beer Fest) to let everyone know what is good and what has "gone Belgian."
The Lineup:
| | | |
| --- | --- | --- |
| 2011 | 21st AMENDMENT | LOWER DeBOOM |
| 2012 | 21st AMENDMENT | LOWER DeBOOM |
| 2010 | ALAMEDA | OLD ALGER |
| 2008 | ALASKAN | BARLEYWINE |
| 2012 | ALESMITH | OLD NUMBSKULL |
| 2010 | ANCHOR | OLD FOGHORN |
| 2011 | ANCHOR | OLD FOGHORN |
| 2112 | ANCHOR | OLD FOGHORN |
| 2011 | ANDERSON VALLEY | HORN O' THE BEER |
| 2011 | BEER VALLEY | HIGHWAY TO ALE |
| 2012 | BLOCK 15 | BBL AGED HYPNOSIS |
| 2012 | BOULDER | KILLER PENGUIN |
| 2012 | BOULEVARD | HARVEST DANCE |
| 2010 | EL TORO | 500 |
| 2011 | FIRESTONE WALKER | (S)UCUBA |
| 2010 | GREAT DIVIDE | OLD RUFFIAN |
| 2012 | GREAT DIVIDE | OLD RUFFIAN |
| 2011 | HOPWORKS | NOGGIN FLOGGIN |
| 2011 | J.W. LEE'S | HARVEST ALE (UNITED KINGDOM) |
| 2011 | LAH NEPPUR | BARLEYWINE |
| 2011 | LAURELWOOD | OLD RELIABLE |
| 2012 | LAURELWOOD | OLD RELIABLE |
| 2007 | LUCKY LAB | OLD YELLER |
| 2009 | LUCKY LAB | OLD YELLER |
| 2010 | LUCKY LAB | OLD YELLER |
| 2010 | LUCKY LAB | BBL AGED SON OF OLD YELLER |
| 2011 | LUCKY LAB | OLD YELLER |
| 2012 | MIKKELLER | BIG WORSE (DENMARK) |
| 2012 | NEW OLD LOMPOC | OLD TAVERN RAT |
| 2012 | NINKASI | WHEAT WINE |
| 2011 | NORTH COAST | OLD STOCK |
| 2012 | NORTH COAST | OLD STOCK |
| 2009 | OLD MARKET | BARLEYWINE |
| 2011 | REEL ALE | TEN SQUARED |
| 2008 | ROGUE | OLD CRUSTY |
| 2009 | ROGUE | OLD CRUSTY |
| 2009 | SIERRA NEVADA | BIGFOOT |
| 2010 | SOUTHERN OREGON | BARLEYWINE |
| 2011 | SOUTHERN OREGON | BARLEYWINE |
| 2009 | TERMINAL GRAVITY | BUCOLIC PAGUE |
| 2011 | TERMINAL GRAVITY | BUCOLIC PAGUE |
| 2012 | UINTA | ANNIVERSARY |
| 2012 | WIDMER | OLD EMBALMER |
| 2012 | BLOCK 15 | SUPER NEBULA |
| 2011 | COALITION | LOST GLOVE |
| 2012 | EL TORO | YO |
| 2012 | GILGAMESH | BAH |
| 2009 | LAUGHING DOG | ALPHA DOG |
| 2012 | MIGRATION | FRANKIE CLAUSE |
| 2010 | NEW OLD LOMPOC | C-SONS |
| 2010 | NEW OLD LOMPOC | UPSETTER |
| 2008 | OAKSHSIRE | SASQUATCH |
| 2010 | OAKSHSIRE | SASQUATCH |
| 2012 | ROCK BOTTOM | SKELETOR |
| 2011 | ROCK BOTTOM | |
| 2008 | ROGUE | RUSSIAN IMPERIAL STOUT |
| 2009 | SALMON CREEK | BROTHER LARRY |
| 2009 | TERMINAL GRAVITY | FESTIVALE |
| 2012 | THREE CREEKS | BIG BAD SISTER |
| 2009 | THREE CREEKS | RUDOLPH |
| 2009 | WIDMER/COLABORATOR | CXI |