CRAFT BEER, Portland Oregon Brewery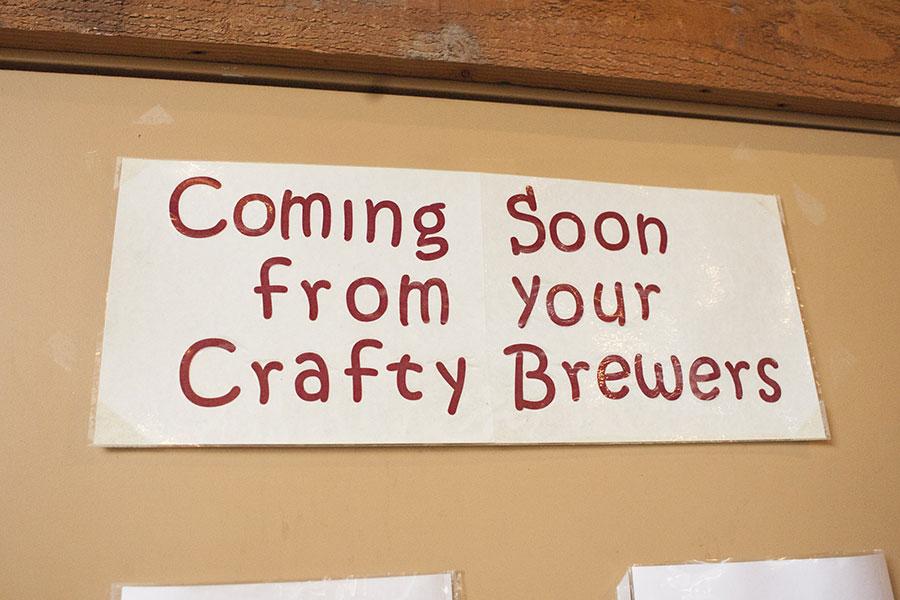 While transferring the wort from the kettle, we cool it down to room temperature through a heat exchanger and add yeast to begin metabolizing the sugars, better known as fermenting. Depending on the style of the beer we leave the beer to ferment for three days to four weeks.
When the beer has completed the fermentation, we cool the tank, causing yeast and other solids to drop to the bottom of the tank. We then rack the beer into a conditioning tank and leave it to age for about two weeks. After the hop profile has mellowed the beer is either ready for a tap line or to get kegged for one of our satellite pubs. Portland Oregon Brewery, the finest beer.
From the barley in the grain room to a pint in your hand, the process lasts about two and a half weeks.
From milling the grist to the first sip, the entire brewing process happens at one of the Lucky Labrador's two breweries. Portland Oregon Brewery.
The Process
Integral to our brewery is our solar thermal water heating system. If the sun was out the previous day we will have captured the sun's energy and use it to heat our brewery water. The brewer mixes hot water with milled barley in the first tank, the mash tun, bringing it up to 155 degrees Fahrenheit. While the mash steeps for an hour and a half, the starches present in the barley are converted into fermentable sugars. From here we transfer the wort to the kettle, and boil it for another hour and a half, adding hops along the way.
Generally, hops are added in the beginning of the boil to impart bittering flavor and added at the end to give the beer bittering aroma. At the end of the boil we start a whirlpool in the tank, collecting the solids in the middle—a little physics working here—and then let the solids settle to the bottom. Portland Oregon Brewery, with Lucky Lab Portland Beer.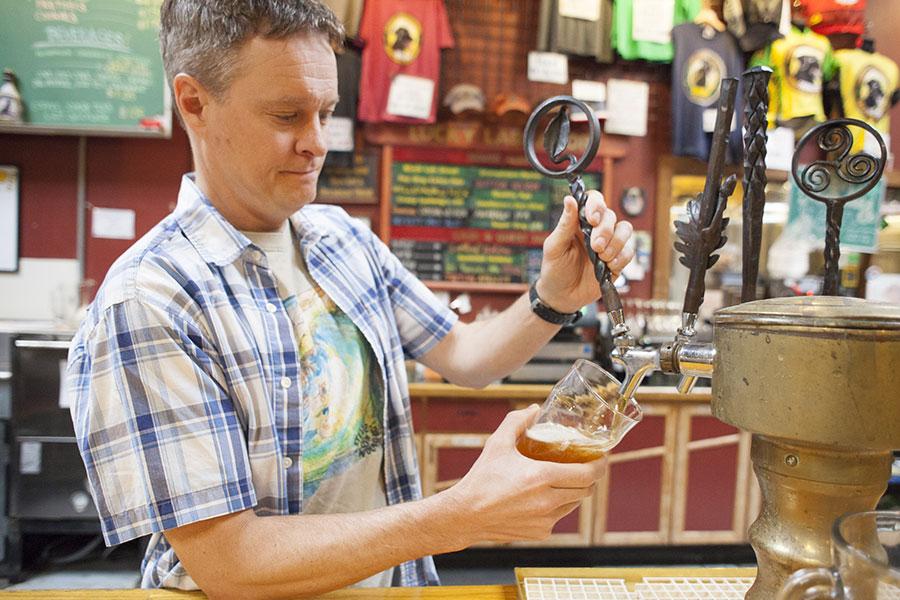 OUR BEERS
Amarillo IPA
This IPA is part of our single hop IPA series where we keep all of the ingredients constant except for the hops, and we use only one variety per brew. This showcases that particular hops flavors and abilities. Amarillo is a Northwest favorite with its citrusy, floral characteristics. ABV: 6.4% IBUs: 83.6
Bavarian Crystal Weizen
Crystal clear and free of suspended yeast like its sister the Hefeweizen. This wheat beer gets very distinct vanilla, banana, and clove flavors from the Bavarian yeast used. ABV: 4.5% IBUs: 13.2
Belgian Canine Style Tripel
This complex blond abbey style ale has a robust, smooth, fruity taste, and a delicate spicy flavor. This tripel has a much lighter body than its 7.7% ABV would suggest, deception at its finest! ABV: 7.7% IBUs: 29.1
Bike Route Rye
This rye is light golden in color and finishes distinctively crisp and dry thanks to the 23% rye malt. ABV: 5.0% IBUs: 30
Black Lab Stout
An out of this world ultra-dark, rich, creamy and roasty stout. ABV: 6.8% IBUs: 55
Black Sheep IPA
An IPA with carafa malt added for a slight roasty coffee flavor. Hopped with CTZ, Willamettes, Summits and Simcoes. ABV: 5.7% IBUs: 101.7
Blue Dog Pale Ale
A classic old style pale ale with chocolate and black malts lending a slightly darker hue than most of today's pales. ABV: 5.2% IBUs: 29
Byron's Pale Ale
This pale ale is smooth, malty and medium bodied. Cascade and nugget hops were used in the kettle and centennials for the dry hops, giving this pale ale a tangy and floral hop profile. Its honey/orange color, low IBUs and moderate alcohol make this the perfect anytime of year beer. ABV: 5.3% IBUs: 35
Centennial IPA
This IPA is part of our single hop IPA series where we keep all of the ingredients constant except for the hops, and we use only one variety per brew. This showcases that particular hops flavors and abilities. Centennial is a favorite for its ability to add both substantial bitterness and amazing aromatics. ABV: 5.86% IBUs: 95
Chocolate Stout
This is our black lab stout with the added kick of rich chocolate. ABV: 6.8% IBUs: 55
Crazy Ludwig's Alt
With three crystal, munich and chocolate malts, dry hopped with centennial and cascades, and dark amber in color, this ale is truly one of our finest. ABV: 6.5% IBUs: 65
Dog Day IPA
The first IPA at the lucky lab, previously known as U.K.P.A. due to its British IPA style (as opposed to a NW style IPA, Super Dog we're talking about you); classic and smooth for a great session beer. ABV: 6.4% IBUs: 82
Doppel Hound Doppelbock
This classic Doppelbock comes on strong and leaves you refreshed due to the clean lightness of the German lager yeast used in fermentation. The alcohol content is at the lower end of the Doppelbock spectrum allowing for a greater springtime quaffability. ABV: 6.4% IBUs: 20
Galena IPA
This IPA is part of our single hop IPA series where we keep all of the ingredients constant except for the hops, and we use only one variety per brew. This showcases that particular hop's flavors and abilities. Galena hops are known to be pleasant, pungent and citrusy. ABV: 6.1% IBUs: 80
Golden Ale
Our lightest ale; golden, bright and easy on the hops. ABV: 4.0% IBUs: 30
Got Hops?
This beer is different with every batch. The grain bill is always 2-row pale, c-15l and dark Munich malts, but the hops and dry hops are brewer's choice. This batch has Nuggets, Galenas, Willamettes, and Willamette dry hops. ABV: 6.4% IBUs: 86.3
Hawthorne's Best Bitter
Bitter is an English term for pale ale. Our bitter has a medium chestnut color and is dry hopped with Willamettes and Cascades giving the best bitter the best finish. ABV: 5.2% IBUs: 41
Hellesaurus Rex
A Bavarian style straw-blond lager, light and refreshing while still maintaining good body and mouth feel. ABV: 5.2% IBUs: 22
Hellraiser ESB
Extra special bitter! Amber colored with caramel undertones and a devilishly good cascade hop aroma. ABV: 5.8% IBUs: 51
Irish Stout
Two row pale malt, flaked barley, and roasted malt give this ale it's unique dry smooth finish. This stout is much lighter in body and ABV than our black lab stout. ABV: 4.7% IBUs: 51
Killa' Amarilla IPA
Made with three of the most outstanding, aromatic and palette pleasing hops; Centennial, Amarillo and Summit, and balanced with a killer grain bill, this IPA is a one off, so don't miss out. ABV: 6.1% IBUs: 58.4
Malt Bomb 5
This version was brewed with the same grain and hops as usual and fermented with Belgian farmhouse ale yeast to make it unique. This yeast imparted complex esters, earthy, spicy notes, and a slightly tart, dry peppery finish. The grain and hops provided the extreme maltiness and brick red color combined with the very mild bitterness of noble hops. ABV: 5.4% IBUs: 24.8
Mild Bite
A light brown ale with hints of chocolate and pleasant hop finish. This ale has the traditional British mild ale malting combined with a bite of Northwest distinctive hop characters of Northern Brewer and Fuggles. ABV: 3.6% IBUs: 31
The Mutt
Every year we make a fresh hop beer with every fresh hop our friends, family, neighbors, local farmers, customers and ourselves can round up. Due to the this random conglomeration of hops, we can't really tell you which varieties are in it, exactly. But it tastes great! The grain bill is pale malt, crystal 75 and crystal 150. ABV: 4.5% IBUs: ??
No Pity Pale Ale
This crisp smooth organic pale ale has been dry hopped with cascades for a citrusy spicy aroma. ABV: 5.4% IBUs: 46.3
Open Bridge Brown
Flaked barley, crystal and chocolate malts make this brown ale creamy malty and decadently delicious. ABV: 5.5% IBUs: 29
Papa Paul's Pilsner
A hint of bitterness with brilliant clarity and a sparkling gold color makes pilsner a summer go-to beer. ABV: 5.5% IBUs: 67.8
Quality Rye
This rye is light golden in color and finishes distinctively crisp and dry thanks to the 23% rye malt. ABV: 5.0% IBUs: 30
Red Baron Barrel Aged
The name says it all; bourbon barrel aged and red. ABV: 10.0% IBUs: 94.64
Reggie's Red
Chocolate, honey, special B, and crystal malts help give this ale a deep red hue and an enjoyable maltiness unique to reds. ABV: 6.0% IBUs: 37.6
Rye Stout
Similar to our stout recipe with an added 30% rye malt by weight. Rye malt is known for contributing a spicy crispness to a beer's finish and this compliments our stout just perfect. Hopped with Northern Brewer and Fuggles. ABV: 6%
Scottish Holiday
A winter seasonal that is dark brown and glows auburn when held up to the light. Along with our 2-row pale malt we also add Simpson's Golden Promise malt which adds a sweet, clean flavor and together they provide the perfect base for crystal, munich, chocolate and roast malts that enliven and enrich. ABV: 6.4% IBUs: 24
Single Hop IPA
These IPAs are part of our single hop IPA series where we keep all of the ingredients constant except for the hops and use only one variety per brew. This showcases that particular hops flavors and abilities. ABV: ~6% IBUs: varies
Solar Flare Ale
Sun powered* and sun colored, perfect for a hot summer day or if you're looking for a lighter ale with body. ABV: 5.3% IBUs: 46.9 {*all beer at the lucky lab is now made with solar heated water!}
Stumptown Porter
Stumptown porter is brewed using abundant caramel malts and just a little roast barley to give this dark ale its sweet flavorful finish. ABV: 5.5% IBUs: 48
Summit IPA
Another single hop IPA in our series; summit hops have sky high alpha acids that give them a real zing and a tangerine/citrus tang. ABV: 6% IBUs: 101
Super Dog
Our #1 kick butt IPA with a pound of dry hops per barrel. ABV: 6.5% IBUs: 90+
Super Duper Dog
A 12 barrel batch of super dog squeezed into a 7 barrel batch and twice the yum. ABV: 8.0% IBUs: 100+
Triple Threat IPA
Amarillo, summit, and late addition simcoe hops give this IPA an herbal tang that is truly unforgettable. Your palate will thank you. ABV: 6.2% IBUs: 76.8
Wheat Stout
This stout stands out from all the others due to its 48% content of wheat, which adds a bread-like quality and a smooth, rich mouthfeel! ABV: 5.8% IBUs: 48
Winter Wonder Dog
A malty, warm amber winter ale brewed only once a year; lots of honey malt and flaked barley provide a smooth richness, and a bit of dark roastiness from the extra special malt! Willamette and Golding hops. ABV: 6.7% IBUs: 21